Major Arcana: The Fool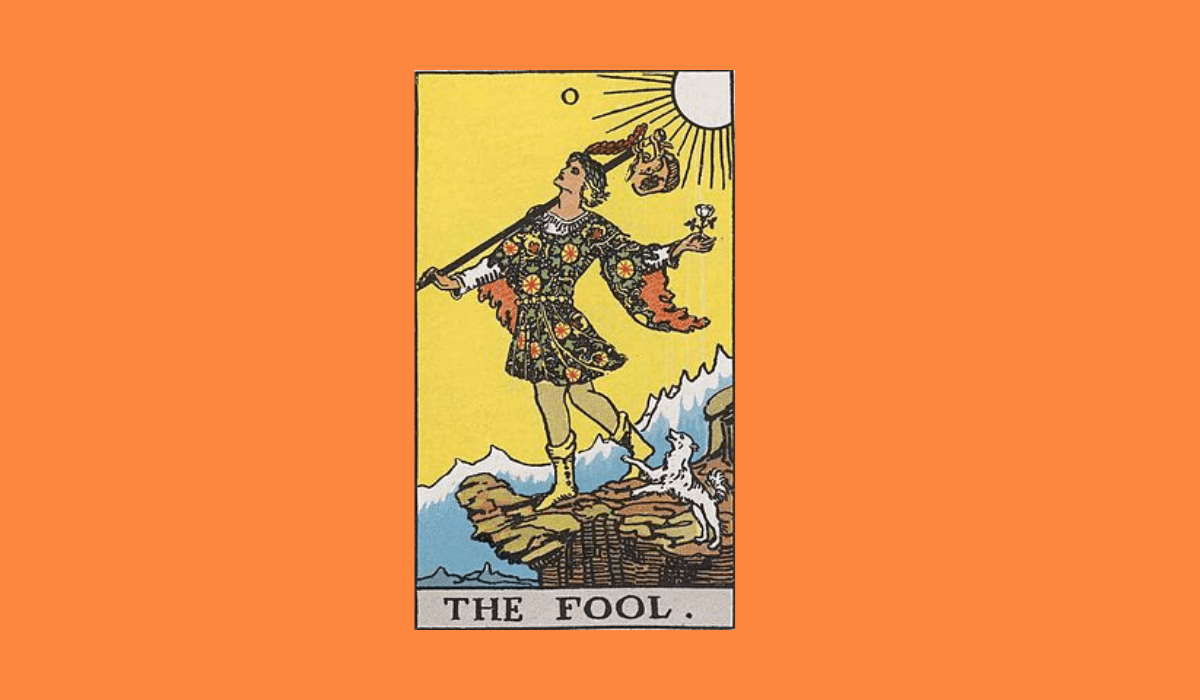 Don't let its name fool you. There is nothing foolish about the fool tarot. This card is all about the excitement of life and adventure. And it is especially welcome for those that are expecting a big change in their life. Or that are waiting for something new and great to happen.    
The Fool Tarot Card Description
The first thing that you can notice from this card, apart from the danger that the fool is exposed to (the cliff), is the number on top of the card. 0 is a special number, it can be valued as nothing, but zero is also a perfect circle, the closest to infinite.
This makes the fool tarot card very flexible, mainly, because it can be placed at the beginning or at the end of the Major Arcana. However, most people see it as the first card. And this consideration is probably based on the meaning of the card. The fool represents the beginning of a journey.
But where will the journey lead us? And how would we be prepared for it? If you look closer, you can appreciate the story that develops in front of your eyes, with all the elements. You can feel the happiness of the fool and his determination to conquer the world. He is so determined that he doesn't see the dangers in front of him. 
The positive part about this is:
that no matter how big the problems are, it is important not to be afraid of big challenges.
if we are afraid, we will probably never start our journey, and we will sooner or later have to be confronted with the feeling of being stuck.
The other elements
The figure of the dog is also very interesting. Without it, there is no doubt that the fool will fall directly over the cliff. The dog is the one that warns him about the danger and will do everything to save him. Even at the risk of falling with him.
We all have a person like this in our life. Someone that tries to show us what can happen if we go in a certain direction. But we are so amused and distracted with what we think is right, that we often ignored what this person is trying to tell us.
Listening to advice and being prepared for everything that can come our way is the key to success. Because no one knows the challenges that you will have to face on such a big journey. In the case of the fool tarot, the big mountains of the background express these challenges. 
The fool tarot upright meaning
The main meaning of the fool is related to new beginnings. If you feel that you are stuck in life or are waiting for an opportunity that can cast away dark clouds, this card is very interesting. With the fool, a cycle ends, and a new one begins.
A New Life Perspective
In this sense, there are aspects of the fool tarot that you should adopt. The card is telling you clearly that you should be open to what comes your way. This is the biggest lesson that the fool is transmitting to you.
Of course, it is important not to be naïve or too confident. But without an open mind, you will probably end up skipping many good things that can fulfill your life.
You have to be curious and enjoy every new thing, instead of closing yourself to the excitement. Don't forget, at some point in our existence; everybody plays the fool. 
Reversed Meaning
Concerning the fool, when it is reversed, it is all about preparation. There are big enterprises or challenges that we want to take. But we have to be conscious of what they imply and if it is the best moment to go after them. Improvisation can be terrible if we put our hopes into something that we really care of.
The reversed fool lesson is to be sincere and decide if we are ready or not. The fool tarot is an indicator that something is holding you back and that you may not feel prepared to leave your comfort zone.
Leaving the Nest
You have to know that no one is forcing you and that you are on your right to prepare yourself before you take the step forward. To let an opportunity pass doesn't mean that it will be the last one that you will get. Sometimes it is good to take good impulse before jumping. 
The main thing that you have to consider is to really focus on the things that matter. The revered fool recommends us not to hold back and be brave with our decisions.
It is not good to stay with your arms cross while everybody is doing what makes them happy. We have to pursue our own happiness and be proud of what we want to achieve.
Concerning a Love reading
The appearance of the fool tarot on a love reading is also very good news. If you are on the look to start a new relationship or are waiting for something that breaks the monotony of your relationship, the fool is a symbol of a big change that will make your heart full of joy. Excitement will knock on your door, so get ready. 
However, in love tarot, the fool can have its downside. If your main objective is stability, the fool tarot card is the worst to settle down, especially if you cannot tolerate childish behavior from time to time. 
The Fool at work
When you are tired of your routine, or you feel stuck in your job, the fool tarot is a sign that things will change. It can mean a new job or, in some cases, a change of task within the job you are in.
You can probably be transferred to a new department or will be given new responsibilities that will fulfill you in many senses.
If you dream of being your own boss and follow your dreams, this card is a good omen. As long as you feel ready and have taken all the considerations, it is time to get your own wings. Don't forget that life is about going from one journey to the other.
Discover other interesting articles from Christin: